Clogged Drain, Clogged Toilet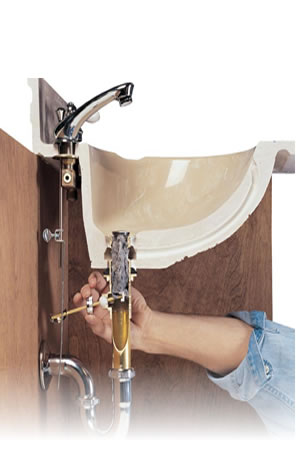 Clogged drains are very common, so every homeowner and business owner will have to deal with clogged drains at some point or another.
How do drains become clogged?
A clogged drain occurs when there is some type of obstruction in the pipe. The obstruction or clog is refusing to allow water from flowing freely through the pipe. The obstruction could be lodged in one of two places, a pipe funneling to a connection point or most likely is lodged in the sink. Slow water drainage is the most common sign that your drain is clogged.
Homeowners and business owners can test if they have a clogged drain. To test if your drain is clogged, run water in the sink until you notice when the water backfills. Soap scum and hair are the leading causes of clogged bathtub, shower and sink drains in your bathroom. Food particles, grease and other debris are the leading causes of clogged sink drains in your kitchen.
Clogged drains can cause backfilled bathtubs, showers, sinks and toilets, which can be messy and destructive.
[jotform id=31756565451964]
Atlanta, GA Peachtree-Plumbing plumbers can repair your clogged drains at a residential or commercial property, so call us today. Our plumbers will use state-of-the-art drain cleaning equipment to remove clogs and obstructions from your drains.
We perform the following services for clogged drains:
Repair clogged drain pipes
Repair clogged toilets
Repair clogged bathtub drains
Repair clogged shower drains
Repair clogged sink drains
Drain stoppage
Drain snake
Drain cleaning
Contact Atlanta, GA Peachtree-Plumbing to schedule a service appointment to repair your clogged drains. The water in your drains will be flowing freely in no time! We will respond to your inquiries within the same day. When you contact us, we will provide you with a free estimate. Our rates are competitive and fair, and there are never any hidden fees, charges or fine print. Call us now! Atlanta, GA Peachtree-Plumbing proudly serves customers in the Atlanta, GA area and promises 100% satisfaction.
Top 5 reasons to choose Peachtree-Plumbing for your clogged sink, clogged shower, clogged tub, clogged toilet and more…
Free Clogged Drain Phone Estimate
No risk or hidden fees
Immediate Clogged Drain Repair in 1-2 hours (in most cases)!
Fast, Efficient and Friendly Clogged Repairs 7 Day Service
Our Plumbers strive for Quality & Professionalism
Insurance Claims Assistance for Clogged Drains