Sewer Cleaning in the Atlanta Area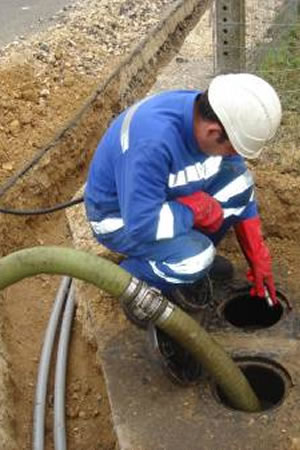 One must do their part by cleaning their drains regularly to maintain a clean sewer. Maintaining a clean sewer is vital to proper functionality and to prevent water flow obstruction to sewer systems. Clogged sewer drains will cause your bathtub, sink and toilet to overflow. In addition, clogged sewers harbor harmful bacteria, mold and toxic gas. Drain or sewer obstruction is detectable. A strong methane odor, slow drains, decrease water flow and low-water toilets are all signs of a drain or sewer obstruction.
You should regularly clean your drains. One way to clean your drains is by using a drain cleaning solution or by creating your own solution by combining vinegar, baking soda and boiling water. Even if you regularly clean your drains yourself, you still need a professional plumber to perform drain cleaning services from time to time. Atlanta, GA Peachtree-Plumbing uses advanced tools and products to perform drain and sewer cleaning services at your residence or business. We also educate our customers on how to maintain their sewer drains until their next professional cleaning service from us.
Atlanta, GA Peachtree-Plumbing is the answer to all your sewer drain cleaning needs! For a free quote, contact Atlanta, GA Peachtree-Plumbing. You may complete our online form to contact us, or for a quicker response, contact us by phone.
[jotform id=31756565451964]
After hearing from you, we will send a plumber to your location. Please note that if our customers need to file an insurance claim, we will help them with that too. We will also provide customers with all the necessary service documentation. Atlanta, GA Peachtree-Plumbing proudly serves customers in the Atlanta, GA area and promises 100% satisfaction. We stand behind our service.
Top 5 reasons to choose Peachtree-Plumbing for all Sewer Lines Cleaning
Free Sewer Line Cleaning Phone Estimate
No risk or hidden fees
Immediate Sewer Line Cleaning in 1-2 hours (in most cases)!
Fast, Efficient and Friendly Sewer Line Cleaners 7 Day Service
Our Plumbers strive for Quality & Professionalism
Insurance Claims Assistance for Sewer Problems